September 24 through October 1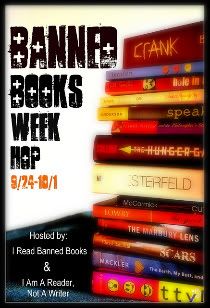 It's the week when we formally recognize and speak out against banned and challenged books. Why do I think we shouldn't ban books? Because it's hard enough to get kids to read at all...why would we start taking their choice of what to read away? There are TV shows, movies, video games that I would never let my children watch/play, but I would never try to start a movement to ban them from other kids. The authorities simply put a rating on them and let the parents have the final choice. Books should be no different. When I was teaching, I had a difficult student. He had a hard life at home and always seemed to have a chip on his shoulder. Books about chocolate fever and bubblegum capers weren't going to draw his attention. He needed a book that applied to him, showed him that his life wasn't that unimaginable, and even more important, showed him that even what he was going through was something he could overcome. Books like the Hunger Games can show kids that even though they are young, they do have a voice and they can be strong and stand up for what they believe in. How dare our "authorities" tell our children they can't read a book about tough times and drugs and real life, but then support their very near and possible future involvement, at the tender age of 18, in a deadly and violent war fighting overseas. If we can send kids to war, and let them play video games that are far more graphic than any thing I ever played as a kid, then by goodness, let them choose what they want to read. It's words, not the end of the world.
In order to show my support of Banned Books Week, I'm having not just 1, but 2 giveaways!
And I'm not the only one having a giveaway this week...there is a whole slew of bloggers supporting Banned Books Week. Go to
I'm a Reader, Not a Writer
for quick, easy links to all of the other 200+ bloggers participating.
This week I'm giving away two paperbacks that are often challenged in the schools:
The Earth, My Butt, and Other Big Round Things by Carolyn Mackler
- WINNER OF A MICHAEL L. PRINTZ HONOR! Fifteen-year-old Virginia Shreves has a larger-than-average body and a plus-size inferiority complex. She lives on the Web, snarfs junk food, and follows the "Fat Girl Code of Conduct." Her stuttering best friend has just moved to Walla Walla (of all places). Her new companion, Froggy Welsh the Fourth (real name), has just succeeded in getting his hand up her shirt, and she lives in fear that he'll look underneath. Then there are the other Shreves: Mom, the successful psychologist and exercise fiend; Dad, a top executive who ogles thin women on TV; and older siblings Anaïs and rugby god Byron, both of them slim and brilliant. Delete Virginia, and the Shreves would be a picture-perfect family. Or so she's convinced. And then a shocking phone call changes everything. With irreverent humor, insight, and surprising gravity, Carolyn Mackler creates an endearingly blunt heroine whose story will speak to every teen who struggles with family expectations - and serve as a welcome reminder that the most impressive achievement is to be true to yourself.
and...
The first book in one of my favorite series reads of all time....
The Golden Compass by Phillip Pullman-
In a landmark epic of fantasy and storytelling, Philip Pullman invites readers into a world as convincing and thoroughly realized as Narnia, Earthsea, or Redwall. Here lives an orphaned ward named Lyra Belacqua, whose carefree life among the scholars at Oxford's Jordan College is shattered by the arrival of two powerful visitors. First, her fearsome uncle, Lord Asriel, appears with evidence of mystery and danger in the far North, including photographs of a mysterious celestial phenomenon called Dust and the dim outline of a city suspended in the Aurora Borealis that he suspects is part of an alternate universe. He leaves Lyra in the care of Mrs. Coulter, an enigmatic scholar and explorer who offers to give Lyra the attention her uncle has long refused her. In this multi-layered narrative, however, nothing is as it seems. Lyra sets out for the top of the world in search of her kidnapped playmate, Roger, bearing a rare truth-telling instrument, the golden compass. All around her, children are disappearing as victims of the so-called "Gobblers" and being used as subjects in terrible experiments that separate humans from their daemons, creatures that reflect each person's inner being. And somehow, both Lord Asriel and Mrs. Coulter are involved.
To enter this giveaway, fill out the form below and leave a comment below of your opinion of banned books. I also ask that you share this giveaway with others on twitter and/or facebook as well. Thanks and good luck
!
~~~~~~~~~~~~~~~~~
This giveaway has ended. Thanks to everyone who entered! I'll announce the winner soon.