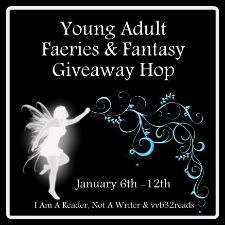 Welcome and thanks for stopping by! My favorite genre to read and write is young adult fantasy...therefore, I just had to participate in this giveaway hop! Keeping with the faerie theme, one winner will win not just one, but two books! Here's what I'm giving away!
tithe - a modern faerie tale by Holly Black
Sixteen-year-old Kaye is a modern nomad. Fierce and independent, she travels from city to city with her mother's rock band until an ominous attack forces Kaye back to her childhood home. There, amid the industrial, blue-collar New Jersey backdrop, Kaye soon finds herself an unwilling pawn in an ancient power struggle between two rival faerie kingdoms -- a struggle that could very well mean her death. (softcover)
Wondrous Strange by Leslie Livingston
Seventeen-year-old actress Kelley Winslow always thought faeries were just something from childhood stories. Then she meets Sonny Flannery. He's a changeling—a mortal taken as an infant and raised among Faerie—and within short order he's turned Kelley's heart inside out and her life upside down. For Kelley's beloved Central Park isn't just a park—it's a gateway between her ordinary city and the Faerie's dangerous, bewitching Otherworld. Now Kelley's eyes are opening not just to the Faerie that surround her, but to the heritage that awaits her . . . a destiny both wondrous and strange. (hardcover)
To enter, fill out the rafflecopter form below.
To participate in the other blogger's giveaways, go to
I'm a Reader, Not a Writer
and click away! And Good luck!
a Rafflecopter giveaway