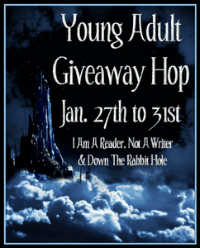 Young Adult Giveaway Hop
January 27th to 31st
Hosted by
I Am A Reader, Not A Writer
and Down the Rabbit Hole
I'll never forget it. It was June of 2007: the first night of my master's elementary education class "Teaching Reading and Writing". The professor asked us to stand up and introduce ourselves one by one and while doing so, tell our favorite book or author. After half of the class had already had their turn, having mentioned books and authors I didn't recognize, I stood up, said my name, and then decided to be bluntly honest...I said that I didn't really like reading and just preferred to see the movie.
After a moment of dead silence, I heard a giggle from the right, saw a few hidden smiles from others twisting away from me, and the professor's speechlessness was priceless. And it was the truth...at the time I thought reading was nauseatingly boring, a complete waste of time. That class was my turning point. We were assigned to read 60 books - some picture books but mostly chapter books and novels, including The Giver, Harry Potter, and A Wrinkle in Time...all the books I never wanted to pick up as a kid. Here I was at 27 and reading children's lit...and found that I absolutely LOVED the genre. Its playfulness, its wild ideas, and its just plain fun side were what turned me into a reader. When the class was over, I devoured the Harry Potter series, then fell in love with the Twilight series, the Mortal Instruments series...and then the Hunger Games and more. Due to a class I thought I would despise, I fell in love with children's and young adult literature and I've never looked back.
That's why I'm super duper excited to participate in this blog hop. I'm giving away not just one, but FIVE books! Here's what's up for grabs:
Impossible by Nancy Werlin
If I Stay by Gayle Forman
When it Happens by Susane Colasanti
Blue Bloods by Melissa de la Cruz
Prism by Faye & Aliza Kellerman
Winners will be randomly chosen, and books will be assigned in the same order as above as the order in which the winner is drawn. For example, the first name drawn will win Impossible. The second winner drawn will win If I Stay, etc. etc. Simple enough?
To enter for your chance to win one of these five awesome YA books, follow the directions on the rafflecopter widget below! And good luck!
a Rafflecopter giveaway